Creative Curriculum
The Creative Curriculum for Preschool is a research-based system that combines curriculum, assessment, professional development and family connection resources to fully support every early childhood program. Combining comprehensive knowledge-building volumes with rich daily practice resources, it ensures that teachers have both foundational information and day-to-day guidance for building exceptional programs. Every step of the way throughout the year The Creative Curriculum for Preschool promotes intentional teaching through exploration and discovery as a way of learning.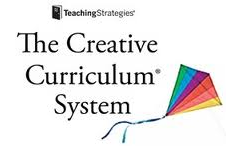 Handwriting Without Tears 
Handwriting Without Tears® aims to make legible and fluent handwriting a skill that students can master easily. Our dynamic curriculum design, teaching strategies, and compelling lessons make it easy to teach Handwriting Without Tears in only 15 minutes per day. The Handwriting Without Tears® curriculum draws from years of innovation and research to provide developmentally appropriate, multisensory tools and strategies for classrooms. The program follows research that demonstrates children learn more effectively by actively doing, with materials that address all styles of learning.